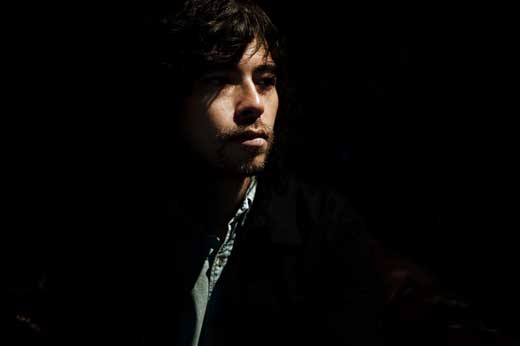 "I like weird stuff, like most crate diggers"
5 Questions with Onra
The crown prince of Parisian hip-hop, Onra – aka Arnaud Bernard – makes beats inspired by his travels around the globe and his love for Golden Age production techniques. He first rose to fame with the 2007 double LP Chinoiseries, a 32 track release that combines his hip-hop background with an encyclopaedia of samples from Chinese and Vietnamese records from the 1960s and 70s. Following it up with a Pt. 2 in 2010, and releasing wholly different projects in albums Long Distance and Fundamentals, Onra cemented a reputation for creating critically acclaimed but immediately infectious beats of all shapes and sizes. Plus, if you're a regular at Ride, you should definitely know about his Throw 'Em Up series –  a three part mix of all the smoothest r'n'b from the mid '90s.
Before Onra visits Sneaky Pete's for another chapter in our Night Music series on May 8, we asked the producer about where he's at and what he's up to –and how his music will always be hip-hop.
We really can't wait much longer to hear Chinoiseries Pt.3… Can you drop us any tiny clues about the record? 
Well, as it is the third and final part of the trilogy, I wanted to keep the exact same concept and pretty much the same ingredients and same recipe: old records + MPC and a couple vintage synthesizers, no computer has been used in the creative process of it. There are 32 tracks like on the other volumes, all samples come from Chinese pop/rock/soul/a-go-go/soundtracks, but I guess the choice of samples is a bit less "Asian sounding" at times. I tried to find different flavours to showcase the diversity of Chinese music and there are many different types of drum patterns. Some tracks sound like bossa nova, sometimes indian, sometimes psychedelic rock, etc… But to me it's all Hip-Hop.

Your influences are global. How important is it to you, to collect records while you're on tour? Can you describe the special feel that you look for, in a new/old record?
What else could I do while being on tour really? Stay at the hotel, take a photo of a church or a temple?… I might as well go out and find the only record spot in town, it's often an adventure to get there and find it, and it's most of the times located far away from popular/mainstream areas, so I get to see the less touristic side of towns.
I collect all kinds of music except Classical, so I'm not really looking for a special feel, there are good music and good samples in any genres. I like weird stuff, like most crate-diggers, so I'm often going to look for something different and not the obvious piece. I also like to buy cheap and find gems, so I often clean up those dollar-bins first.
It's rumoured that you made the beat for The Anthem in just fifteen minutes. Do you always work that quickly?
It can be as quick, but I spend hours mixing and sequencing on the MPC, it's a very long process to work on this machine. At the time I made "The Anthem", I was just having fun with it and didn't really plan to make an album out of this; I was just inspired by new material and by my first trip to Asia.
You once said that whatever music you make – no matter if it sounds like house, or funk – you consider it to be hip-hop because of how you work. Is that ethos tied to your love affair with your MPC? 
Yeah, no matter what I do, I still consider it Hip-Hop, because of the process and because of my background. My intentions are not to make something different, but I guess people interpret it in their own way.
Finally, what should we expect from a night in Edinburgh with Onra? Might any Throw 'Em Up classics sneak in there? 
No Throw'Em Up in my set as I'll be playing live… Therefore, I'll play 100% of my own music; Hip-Hop, Funk, RnB flavoured. A bit of Chinoiseries too, but it really is a small part of what I do even though this project still stuck to me. Probably 'cause medias want me to be that "Asian guy who does this Asian thing," [but] to me it's just a side-project – it doesn't represent the majority of my set at all.
Onra plays Sneaky Pete's on Wednesday 22 March. Doors at 9pm, Tickets Here